Welcome to Formula Cars
LAST UPDATE 8th January 2016
Winter Tyres now in Stock,
For the most popular Volvo tyre sizes
Some excellent fitted deals
Winter Tyres
WINTER TYRES, HAVE YOU GOT YOURS?
With winter conditions seemingly getting worse in the UK year on year, more drivers
than ever are fitting winter tyres to their vehicles. Winter tyres are designed to
improve grip, stability and stopping distances during the cold periods of the year.
We recommends them to all road users and here's why…
MORE THAN JUST SNOW TYRES…
A misconception is that winter tyres are to be used solely in snowy conditions
however this is untrue. Winter tyres are more effective than regular tyres when the
temperature drops below only 7c. This is due to a higher amount of natural rubber
and silica which remains more flexible when the temperature drops and hence provides
more grip than regular tyres, which effectively "freeze".

AGGRESION
Winter tyres adopt a more "aggressive" pattern with deeper grooves, designed to
displace snow more effectively, allowing more of the tyre to be in contact with the
road. They also have smaller sipes in the tread which are designed to increase grip
in icy conditions. These differences in in the pattern aid traction for setting off
as well as braking.

THE FACTS
- Winter tyres outperform regular tyres below temperatures of just 7c
- From a speed of 20MPH, a winter tyre will stop you 11m sooner
- Winter tyres will be marked with a snowflake or a snow topped mountain symbol
- It is recommended to fit a full set of winter tyres for maximum stability and control
- They have sipes to improve grip on ice
- They have a more aggressive tread pattern to disperse snow
- When the weather clears , you don't have to drive more slowly than regular tyres
- You should change back to regular tyres around March time – when the weather is warmer
TOP TIP
If you have the storage space, we suggest buying a spare set of rims to fit your
winter tyres to – this means you can swap them easily when winter comes and will
save a lot of heart ache if you do happen to damage them in any way due to the snow
Welcome to our new website
The old site has been up and running since the start of the "interweb" age ! so we thought it was time for a freshen up
More pages and information will be added over the coming months, In the meantime, please have a look round, and use the contact form or email direct, if you have any comment or suggestion
Thank You
LABOUR DISCOUNT


CARRY ONE OF OUR REAR WINDOW STICKER,

AND RECEIVE A 5 % DISCOUNT ON ALL

INVOICED LABOUR CHARGES
Formula Cars are the South West's leading totally independent Volvo specialist.

First established over 29 years ago as one of the original Volvo specialists, and still owned and run by the original partners,, Formula Cars enjoys in excess of over 15, 000 square feet of Sales & Service facilities, built upon a 2.5 acre site just 3 mins from the M5, Junction 26, with easy access to Bristol, Bridgwater, Taunton, Tiverton,Torbay Exeter, Yeovil and the South West Counties of Avon, Somerset, Dorset, Devon & Cornwall. Only one mile from Wellington Town centre.

Because we at Formula Cars are totally independent from Volvo, we are able to offer great value for money on choice used vehicles, as well as servicing and repairs from our fully equipped workshops together with extensive stock of parts and accessories for Volvo.

We are always building on our Used Car Section, and at present have over 30 cars online, ranging from £2000 to £45000 each with full spec and full colour pictures. If you would like any more details on any of our used vehicle stock please contact us.
We also supply new Volvo's, All UK dealer sourced, as well as near new direct from Volvo Car UK

Please use our service department to make any queries regarding your Volvo, or even book in for a service/mot, with free Volvo loan car
Being full members of the RMI Trust My Garage Scheme you will also have the benefit of the RMI Guarantee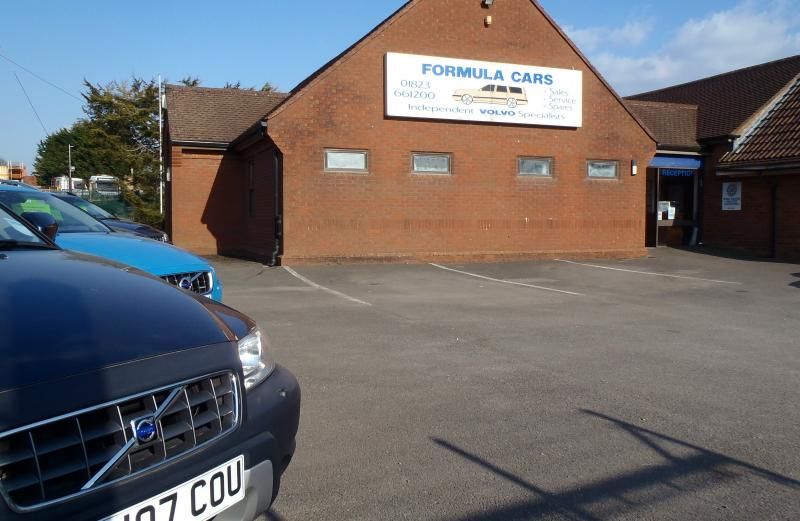 | | Registration | Manufacturer | Model | Mileage | Price |
| --- | --- | --- | --- | --- | --- |
| | 2011 (11) | Volvo | XC70 D5 205 SE LUX AWD DIESEL ESTATE | 54,000 | SOLD |
| | 2008 (08) | Volvo | XC70 D5 185 SE SPORT AWD DIESEL ESTATE | 89,000 | £10,695 |
| | 2005 (05) | Volvo | XC70 D5 163 SE AWD DIESEL ESTATE | 151,000 | SOLD |
| | 2014 (14) | Volvo | V60 D4 181 SE LUX NAV DIESEL ESTATE | 11,600 | SOLD |
| | 2007 (07) | Volvo | XC70 D5 185 SE AWD DIESEL ESTATE | 102,000 | SOLD |
| | 2006 (56) | Volvo | XC70 D5 185 SE AWD DIESEL ESTATE | 123,000 | SOLD |
| | 2008 (08) | Volvo | V70 D5 185 SE SPORT DIESEL ESTATE | 87,000 | SOLD |
| | 2010 (10) | Audi | AUDI R8 V10 | 19800 | £65,000 |